Here's a great article about Greg and Sally and their lives as modern day monks. Taken from New Zealand's House and Garden Magazine September 2014 issue.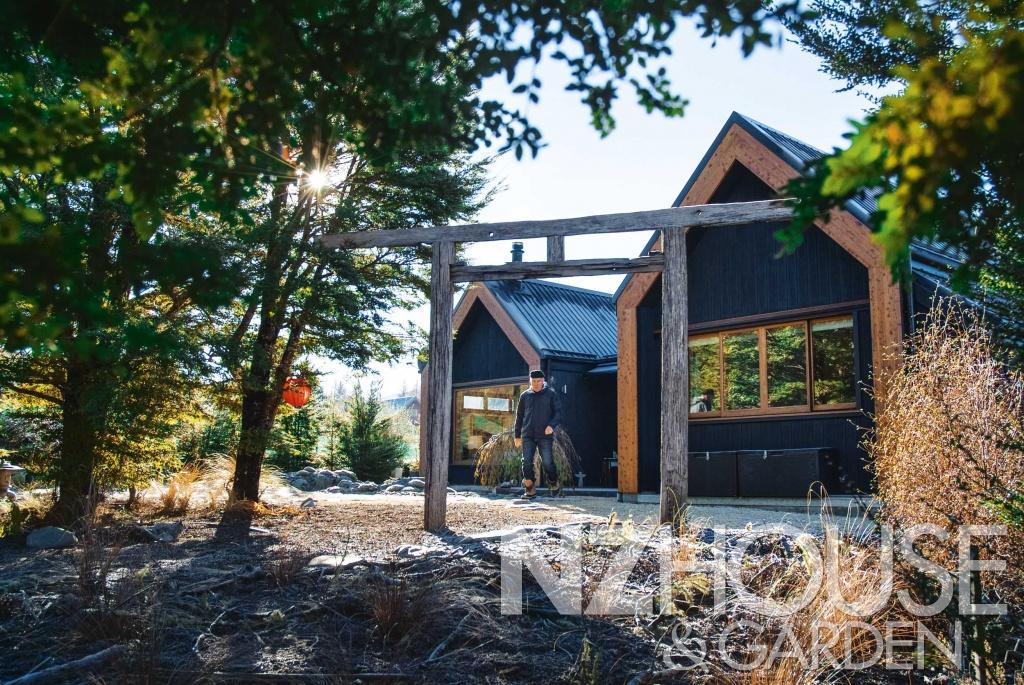 A Place of Peace
The sun has risen above the peaks, bleaching the pinkness from the sky as a lone falcon circles. The monks have finished their morning meditation. Tucked under the Southern Alps in Canterbury and strewn with gigantic megaliths, the Castle Hill setting is a naturally spiritual place – it made a spectacular location for the Lord of the Rings and Narnia movies.
The monks themselves are outwardly disappointing. No robes, no tonsures, not even a whiff of incense. Greg Hopkinson and Sally Lewis appear to be ordinary people. "Greg is bald, so he looks a bit like a monk," says Sally, pouring a cup of strong perked coffee. The couple are teachers of the ancient Ishaya tradition. "It's not a religion," says Greg. "It's about learning to disengage the incessant 'chatter' in your head to reveal the inner stillness that's the essence of everything."
It's a stillness Greg glimpsed after being buried in an avalanche while skiing near Wanaka. Rather than claustrophobic terror, he experienced a profound peace he spent years trying to recapture. He recently published Boundless – the book's title was intended as a reference to human possibilities but, in his case, one could be forgiven for thinking it referred to boundless energy.When they met, Greg and Sally were both driven people. Sally juggled several businesses and Greg's life had been action-packed and eventful.
Greg's colourful journey had taken him from West Coast gold dredges and dubious ventures in Russia – with a broken marriage and brain tumour along the way – to founding a successful chain of pet stores. But money did not buy him the happiness he expected and he realised he had been more contented upside down under an avalanche 20 years earlier.
In 2005, a flyer in a cafe spurred him to take an Ishaya meditation course and his life took a new direction. Sally, his newfound soulmate, set out on the same path soon after.
A journey down a more familiar road in 2008 led to another change. Greg had driven past Castle Hill village en route between the east and west coasts countless times. "I'd always thought, 'Who the hell would want to have a house here?' Then one day I drove in and it blew me away. I bought a section within two days."
In his previous existence, Greg had plans to build a 900sqm-plus mansion in Canterbury. "Here was a great opportunity to say, 'How much space do we really need?' I wanted to build a small house with no unused spaces."
From the road, the house looks like a double-gabled whare; from the back, a Japanese tea house. It is compact, with two living spaces, a kitchen, two bedrooms (the master with an en suite and cedar sauna) and an outside office. Nelson architectural designer Mathew Hay used American oak window frames and Lawson's pine gables to set off the black-stained plywood cladding.
Sally, who was running a wine business in Blenheim at the time, said she would only move further south if the house was warm. Greg, an engineer, didn't want to be dependent on the national grid. At the heart of his system is a wood-fired Rayburn, which runs radiators through the house and heats the water, and an auxiliary diesel generator for emergencies.
"Last winter there was a 36-hour power cut in the village and 70cm of snow around the house. We were sitting here watching TV with the Rayburn going."
When they bought the section, it was bare except for a grove of mountain beeches. These now form the backdrop to a structured Japanese-style garden. "We brought about 200 native plants down from Marlborough," says Sally. Four survived. They replanted using natives endemic to the area, as well as hardy rhododendrons, a flowering cherry and red maple.
A traditional Shinto torii (sacred gate) divides the garden into two parts – "The fast route to the barbecue area or the long meander," says Sally. Along the way, large stepping stones lead to a miniature mountain and waterfall.
In the "secret garden" is an old bath, fired with a gas heater. One memorable night they lit candles and soaked, with wine and nibbles, surrounded by a metre of snow. It was minus six degrees centigrade and the cheese froze.
The alpine village of Castle Hill is mainly made up of holiday houses, with a permanent population of about 18. Greg and Sally's elderly bichon poodle, Eddie, is one of the better-known locals, spending many an hour calling on young females, dapper in his diminutive Driza-Bone.
Like most of the residents, Greg and Sally ski. "With four fields within 20 minutes' drive, it just becomes another activity in the day in winter, like going for a bike ride," says Greg.
The surrounding forests are alive with birds. "When we first moved in, we put out food for them and even made a bird tray," says Sally. "They didn't touch it. We were so arrogant. We thought they needed us to feed them." But they do appreciate the sprinkler system. Greg counted more than 10 bellbirds flitting through the spray one hot summer's day.
"It's our little sanctuary," says Sally. "We travel a lot but, when we are here, we are reluctant to leave. There's something magical about the place." Something about the peace and that ineffable stillness.
Q&A
Bravest thing we did: During the construction we only visited the site twice. We knew the building team would build the house according to the plans, but we wanted to allow the tradesmen to craft in a bit of their own style. As a result some very cool details have been created. (Greg)
Favourite household chore: Stacking firewood. (Greg)
A quote I often use: "Let see what unfolds." That has been so true building our home and garden – it's been fascinating to see the project evolve. (Greg)
Favourite kitchen appliance: My Kenwood mixer and my Jo Seagar cookbooks. With the closest shop being 25 minutes' drive away, they're a perfect combination. (Sally)
Best walk in the neighbourhood: The Hog's Back Track, a 24km mountain bike/walking track constructed by the community (led by one of the permanent residents of
Castle Hill village). The vistas are amazing. (Greg)
We love this part of New Zealand because: The energy of the land here is powerful. The conditions are harsh but there's a real beauty in the dramatic change of seasons. Autumn and winter are our favourite times – the colours and the light are awe-inspiring. (Both)
Greg Hopkinson and Sally Lewis